Bamboo Knee Sleeve | Athletic Bamboo Compression Support Brace for Sports Pain Relief
---
Description 

Knee injuries are a fairly common occurrence while engaging in sports, athletics, or physical activities, making it extremely important to protect the knees from injury or re-injury. Wearing a protective Bamboo Knee Sleeve 
is the most common way to ensure safety from knee injuries.
The Bamboo Knee Sleeve is the ideal athletic support for sports, or for those with active lifestyles who want excellent knee protection or effective treatment for minor knee injuries 
caused by physical activity. 
Most supports are made with just fabric, but the advantage of our knee supports is that it contains 100% Bamboo Charcoal Technology that's built right into the soft fabric.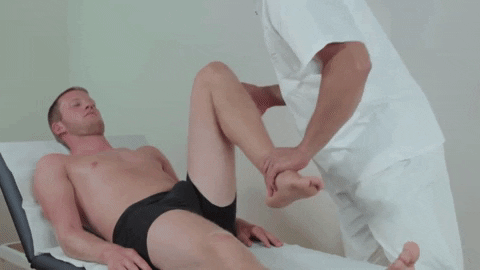 This comfortable Bamboo Knee Sleeve can be used to help relieve pain and provide protection for multiple conditions and injuries. Athlete or not, it can be used for many reasons beyond sports, such as:
Sports overuse
Knee discomfort
Repetitive-use injuries
Knee Sprains
Joint Pain
Ligament injuries
Bamboo Charcoal activates with your body temperature for self-warming, natural relief for your knees. It can provide stable support for anyone with knee joint pain. Soothing warmth can help improve blood circulation for achy knee joints due to aging, reduce knee soreness, reduce inflammation, help increase knee joint mobility, soothe knee discomfort, and more!
Testimonials: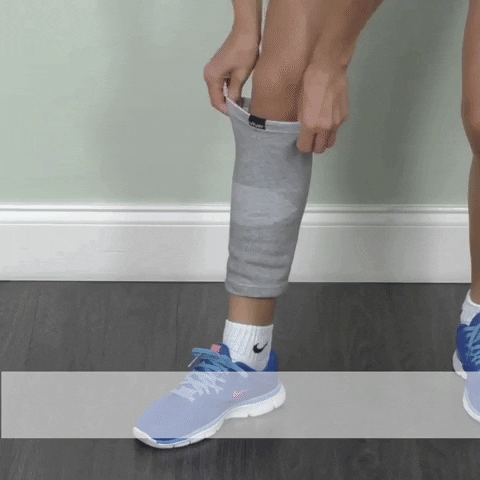 Bamboo Knee Sleeve: Features & Benefits
Accelerated Recovery

Due to increased blood flow, and delivery of a greater supply of oxygen to the targeted areas, this knee support sleeve can enhance your overall mobility. While staying mobile, you will promote an accelerated recovery to get you on your feet quicker, and keep you there longer!

Long-Lasting & Durable

Users report high satisfaction in the overall quality of this running knee brace. Whether it is used for preventative measures, recovery healing, or just added compression, it will support you longer with its strong active charcoal.

Flexible Bamboo Charcoal

This signature fabric blend is embedded with semiconductor elements to provide effortless comfort and exceptional durability. This form-fitting recovery sleeve provides effortless comfort thanks to its 3D weave design, perfect for anyone experiencing discomfort related to circulatory issues, sports-related injuries, or other knee conditions.

Odor Absorbing & Moisture Wicking

With anti-microbial, odor-absorbing, and moisture-wicking technology, this bamboo brace is sure to keep you cool and odor-free while living your active lifestyle. Get back to life with this comfortable, lightweight support designed with an active lifestyle in mind.

Promotes Natural Healing

Created with flexible and lightweight material, this compression brace encourages natural healing. There is no added padding, buckles, or straps to disturb your knee's natural positioning.
TARGETED COMPRESSION THERAPY

The flexible sleeve provides gentle compression therapy, retaining warmth + increasing circulation to soothe aching knees and reduce swelling or inflammation

LIGHTWEIGHT FLEXIBLE SUPPORT

Allowing for a full range of motion, the flexible knee sleeve provides pain-relieving support, for sprains, and strains throughout any activity

BAMBOO CHARCOAL BLEND

Unique temperature-regulating fabric retains warmth when cold & releases excess heat when hot. Won't slip, bunch, or roll for exceptional comfort

SOFT ANTIMICROBIAL SLEEVE

The soft blend contains antimicrobial fibers to reduce bacterial buildup and eliminate unpleasant odors

UNIVERSAL PAIR

Discreetly worn under clothing, the low-profile knee sleeves are suitable for both men and women

MACHINE WASHABLE

Durable bamboo sleeves are machine washable for added convenience

 

 


Sizing:


Frequently Asked Questions About  Bamboo Knee Sleeve
What conditions/injuries does the knee sleeve treat?

 

Use this compression sleeve for all kinds of knee strains or sprains, joint pain, ligament injuries, sports support, recovery compression, and other knee injuries.
Who can wear it?

 

This lightweight knee sleeve is available in sizes up to 2XL, fitting a wide range of men and women.
How do I put it on?

 

Simply slip your foot through the top of the brace and slide it up to your leg until the sleeve is centered on your knee.
How do I know what size to get?

 

Using a

 

soft tape measure, sit in a chair with your leg extended straight in front of you. Measure the circumference of your leg 6 inches above the mid-patella and 6 inches below your mid-patella. To get the most accurate measurements, we recommend having a close family member or friend assist you. Refer to our sizing graphic in the photos above to choose the right size.
Can I wear this brace over my pants?

 

We do not recommend wearing this brace over your pants. To experience active charcoal compression, the sleeve should sit against your skin. If pants are necessary, try over a pair of compression leggings.
When should I wear it?

 

This lightweight knee sleeve can be comfortably worn all day while sitting, standing, and during physical activity.
What material is this brace made of?

 

Made with a blend of 43% Bamboo charcoal, 32%

 

Polyamide Fiber,

 

17% Latex Elastic,

 

and

 

8% Polyurethane Fiber

.
How tall is this brace?

 

This brace is 12 inches tall.
Washing instructions:

 

We recommend hand washing this knee brace in warm water with mild detergent and then laying it flat to air dry completely before reapplying.
Other features:

Four-way stitching prevents bunching and slipping
Knee support for both women and men
Includes supportive stays on the inside and outside of your knee

Color:

 

Charcoal.
Protected By 90 Days Money Back Guarantee!
If you are not 100% satisfied with the product and the service we offer - you are protected by our 90-day quarantee on all purchases. Should you have any problem at all then e-mail us at info@corespirited.com for a fast response and no questions asked exchange or refund.
Used for patellar tracking disorder, patella subluxation or dislocation, patellofemoral pain syndrome, light MCL and LCL injury prevention, meniscus pain, knee sprains, knee arthritis, runner's knee, jumper's knee, chondromalacia, patellar tendonitis, and more.
No. They have a specially designed gripping strip on the inside to hold the it up regardless of how hard you move or exercise.
Using a fabric tape measure, stand up and measure the circumference around the center of your kneecap. To get the most accurate measurements, we recommend having a close family member or friend assist you. Refer to our sizing graphic in the photos above to choose the right size.
Yes, but this knee brace is meant to fit against your skin for a better grip. It can be worn above tight pants or leggings if necessary.
This knee brace can be comfortably worn all day while sitting, standing, and during physical activity.
Yes! We offer a simple no-hassle returns and exchange process. Simply contact us by email info@corespirited.com and we'll ship a replacement or arrange a refund.
Delivery takes 3-6 days to the USA, and 5-12 days to Canada, United Kingdom, and Australia.
What Customers Are Saying
I'm a 55 years Old, without this supsupport, my movement would've been very limited. I'll be bothering my neighbors for their support since my children lives far way.
Never did I expect to walk without pain. I sometimes forget I have the brace on. I am very happy to have discover your product. 
At 40 years old, my goal wasn't to have the knees of an 18-year-old. I know mines have a lot of mileage. I was looking for something that can take away some discomfort when I squat or perform any lower body movement. You present me with the right brace for that.
Thank you for introducing this fantastic brace to my life. 
First let me say these are actually awesome knee sleeves. Material is soft and feels good. They stay in place as much as knee sleeves will during activity. I would consider them a medium duty. 2nd customer service is great. I had a sizing issue and they took care of it right away. One leg is a little bigger than the other. I've had two knee surgeries and lost a lot of muscle that I'm still trying to build back in my left leg. So the size I bought fit the left leg but was to tight on the right. I wear these to the gym and just whenever I want a thicker sleeve than my nylon/copper sleeves. They are definitely worth buying.
I cannot believe how comfortable they and that they have taken away the pain. I have been using them daily now when I walk. I think they are great for arthritis, injuries or just support. I can't wait to tell some of my neighbors about them as I think it will help them as well. The hardest part of getting them was measuring my knee to see just what size to order. But the way they feel I know I got it right. They also give me support to the joint and that might be why takes away the pain. Best part is i don't have to take any pills for relief just use the sleeve and instant relief.
I bought this item for my grandma but unfortunately the size was way too big for her. But I contacted customer support and their responses and super quick and very polite. As for the quality it feels soft and breathable like cotton, and it is thick and durable. 5 stars for the service and customer care! Would highly recommend!!
Comfortable Enough to Sleep In
I have some knee swelling and pain from an injury, and I need compression sleeves to keep the swelling down and provide a little support. These are super comfortable. They are soft, nonbinding, and comfortable enough to sleep in. I even wear them under my knee brace, which is uncomfortable to wear on it's own. They stay up without slipping. They can be worn under pants. I am back to order another pair.
I haven't workout legs now for about the last four years after I had a basketball injury. My knee has never really felt stable ever since the injury and once in a while when the weather is cold I have pain in my knee. These bamboo compression support knee sleeves have saved my knee. I wear the knee sleeve 2 hours prior to weight lifting so it keeps it nice and warm and I'm able to workout on my legs no problem. I'm able to do workout that I loved when I was younger like squats, lunges, let extensions. Literally a knee savior! Great knee sleeves would definitely buy again. I have purchased lower quality knee sleeves for much more price. So this is definitely a steal