Hinged Wrap Around Knee Brace with Adjustable Fastener Straps
---
Hinged Wrap Description
This hinged knee brace is ideal for treating knee injuries. Made of comfortable fabric, the brace is used to protect and rehabilitate weak and injured knees. The knee brace absorbs shocks and prevents further strain and injury to the ligaments. This knee support provides adequate support to knee joints and surrounding tissues. It also helps reduces swelling and, can be worn all day long.
5 Benefits of the Hinged Wraparound Knee Brace
Provides therapeutic compression & warmth to treat sore or swollen knees
Prevents further strain and injury onto the ligament
Provides adequate support to knee joints and surrounding tissues
Reduces swelling and pain
Stabilizes the knee and prevents repeated knee injuries
Testimonials: 
Read what  Larry has to say
Read what  Jessica has to say
Hinged Knee Support Features 
This hinged knee support comes at a very affordable price. But the low price tag does not imply low quality. Following are some of the features that make this a popular and effective wrap-around knee brace with hinges.
Constructed of 1/8" neoprene for minimal bulk
Provides even compression & warmth
Anterior fasteners that are easy to apply and adjust
Open patella design for increased flexibility
Nylon on either side of the knee
Removable dual-axis polycentric hinges for a natural range of motion
Provides medical and lateral support
Treats chondromalacia, instability, knee pain, knee sprain or strain, Osgood
Patella dislocation, patella dysfunction
Can be used for post-operative care
Numerous sizes, including

 

bariatric 
The brace also applies compression around the knee cap. This along with rest and pain killers can reduce painful inflammation.
Wrap-around Knee Brace Insights
Speaking of sports, these are the cause of a wide number of injuries to the knee for which a hinged knee brace might be helpful. It is fairly safe to say that for most injuries (minus some of the more serious nature), treatment usually involves resting the knee, applying ice and compression, elevating the leg and, taking an anti-inflammatory. These steps are also recommended after surgery for some of the more serious injuries in many cases.
How to Wear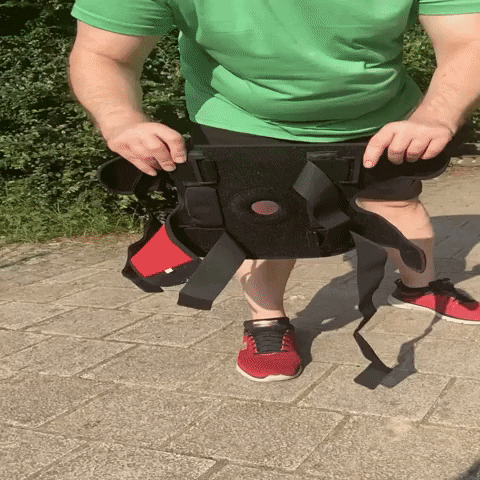 Sizing
This inexpensive knee brace can help with several conditions, from instability to general knee pain to troubles with the cartilage of the knee joint to patella dysfunction. It does so by easing the amount of pressure on the knee joint and preventing any movements that might cause further damage. This neoprene-hinged knee brace stabilizes the knee when it is vulnerable and more prone to further injury.
This hinged knee support comes at a very affordable price. But the low price tag does not imply low quality. Following are some of the features that make this a popular and effective wrap-around knee brace with hinges. 
Protected By 90 Days Money Back Guarantee!
If you are not 100% satisfied with the product and the service we offer - you are protected by our 90-day quarantee on all purchases. Should you have any problem at all then e-mail us at info@corespirited.com for a fast response and no questions asked exchange or refund.
Used for patellar tracking disorder, patella subluxation or dislocation, patellofemoral pain syndrome, light MCL and LCL injury prevention, meniscus pain, knee sprains, knee arthritis, runner's knee, jumper's knee, chondromalacia, patellar tendonitis, and more.
No. They have a specially designed gripping strip on the inside to hold the it up regardless of how hard you move or exercise.
Using a fabric tape measure, stand up and measure the circumference around the center of your kneecap. To get the most accurate measurements, we recommend having a close family member or friend assist you. Refer to our sizing graphic in the photos above to choose the right size.
Yes, but this knee brace is meant to fit against your skin for a better grip. It can be worn above tight pants or leggings if necessary.
This knee brace can be comfortably worn all day while sitting, standing, and during physical activity.
Yes! We offer a simple no-hassle returns and exchange process. Simply contact us by email info@corespirited.com and we'll ship a replacement or arrange a refund.
Delivery takes 3-6 days to the USA, and 5-12 days to Canada, United Kingdom, and Australia.
What Customers Are Saying
I'm a 55 years Old, without this supsupport, my movement would've been very limited. I'll be bothering my neighbors for their support since my children lives far way.
Never did I expect to walk without pain. I sometimes forget I have the brace on. I am very happy to have discover your product. 
At 40 years old, my goal wasn't to have the knees of an 18-year-old. I know mines have a lot of mileage. I was looking for something that can take away some discomfort when I squat or perform any lower body movement. You present me with the right brace for that.
Thank you for introducing this fantastic brace to my life. 
The brace is perfect, just needed a size up for sure. Going to return it and get a bigger size but other than that it's perfect.
They fit very nicely for a big person.
REALLY GRERAT
SIZE IS GREAT-SIDE BRACES MAKE MY REALLY BAD KNEE FEEL MORE STABLE-- IT IS THE BEST I HAVE TRIED AND THAT IS A LOT--WILL BUY ANOTHER ONE FOR STABILITY AS I AM OLDER.
Have a knee that has been in need of a total joint replacement for a couple of years. It really started acting up a couple of weeks ago. Orthopedic doctor suggested a hinged brace to provide some additional stability and relieve some of the worst of the pain. Have been using this brace for about ten days now and it has helped significantly.
I have been happy with the build quality and performance. It is easy to put on and can be worn all day without any discomfort. Recommended.
I ordered a brace based on the correct leg measurements...or so I thought. When it arrived, it was too small. I was really disappointed, but I had to return it for a larger size. I sent it back but didn't hear anything. I was thinking that it didn't arrive, but then I got a package in the mail with a brand new brace in the right size! I am so pleased with my brace. It really does help with my knee pain. Thank you for a wonderful product and excellent customer service!