Arthritis Compression Gloves
---
Orthopedic hand surgeons agree that wearing compression gloves helps with pain relief and mobility of the fingers and wrist especially, with patients suffering from chronic arthritis, wrist pain, tendonitis, and stiff fingers.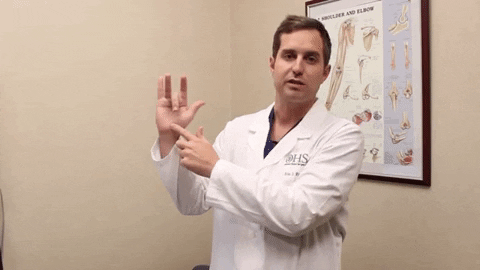 Before launching the Arthritis Compression Gloves, we conduct a test with 50 participants suffering from hand pain. The results were very positive. 38 of the 50 participants (75%) experienced pain reduction while using the Arthritis Compression gloves. The Arthritis Compression Glove is very effective in relieving hand pain. 

Hear from Marie, Joanne, and, Thomas three of our happy customers, experience with the Arthritis Compression Gloves.
Why Must you Wear The Arthritis Compression Glove?
Combat tendonitis

Improves mobility and function of your fingers and wrists 

Prevent pain and numbness

Prevent strains on wrists 
Pain-relieving compression therapy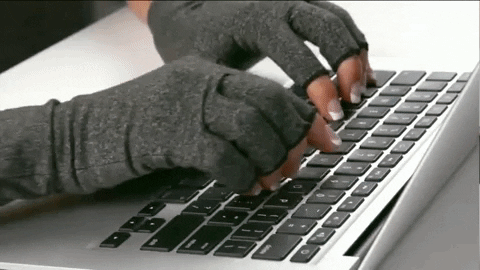 Who Are They Made For?
People with swelling to their Hands

Load management on your Hands

People that type regularly
Signs You Could Benefit From The Arthritis Compression Gloves
Do you feel pain when wiggling your fingers? If yes, you might be suffering from Arthritis. The Arthritis Compression Gloves could help you ease the pain. 
Do you experience soreness in your rest? If yes, you might be suffering from tendonitis. The Arthritis Compression Gloves could help relieve pain. 
Do you experience stiffness on your fingers? If yes, you might be suffering from Trigger Finger. The Arthritis Compression Gloves could help you soothe the pain. 
Highlighted Features: 
Soft & Breathable
Lightweight, breathable cotton-spandex material keeps your hands dry and comfortable while retaining therapeutic heat.
Easy to Clean
Wash your compression gloves with cold water to keep them fresh and clean.
All Day Wear
Designed to be comfortably worn all day or night long at any temperature with maximum flexibility for both men and women.
Open-Finger Design
Gives you complete freedom to feel, touch and grip, so you can easily perform daily tasks with no restrictions.
Sizing: 
Please check your size for accuracy. 


Can Arthritis Be Cured? 
According to the Center for Disease Control (CDC) and the National Health Service (NHS), there's no cure for arthritis. However, some treatments can help slow it down. A supplement such as gloves can help by apply pressure to the affected area thereby help relieve pain.  
The Arthritis Compression Gloves provide support to the soft tissues around the knuckles thereby help alleviate pain. Wearing compression gloves makes people move their fingers and wrists with less pain. The University of Maryland Medical Center reviewed studies that found a decrease in swelling and verified evidence of pain relief of rheumatoid arthritis patients.
The Arthritis Compression Gloves help ease swelling to the hand. 
Used for patellar tracking disorder, patella subluxation or dislocation, patellofemoral pain syndrome, light MCL and LCL injury prevention, meniscus pain, knee sprains, knee arthritis, runner's knee, jumper's knee, chondromalacia, patellar tendonitis, and more.
No. They have a specially designed gripping strip on the inside to hold the it up regardless of how hard you move or exercise.
Using a fabric tape measure, stand up and measure the circumference around the center of your kneecap. To get the most accurate measurements, we recommend having a close family member or friend assist you. Refer to our sizing graphic in the photos above to choose the right size.
Yes, but this knee brace is meant to fit against your skin for a better grip. It can be worn above tight pants or leggings if necessary.
This knee brace can be comfortably worn all day while sitting, standing, and during physical activity.
Yes! We offer a simple no-hassle returns and exchange process. Simply contact us by email info@corespirited.com and we'll ship a replacement or arrange a refund.
Delivery takes 3-6 days to the USA, and 5-12 days to Canada, United Kingdom, and Australia.
What Customers Are Saying
I'm a 55 years Old, without this supsupport, my movement would've been very limited. I'll be bothering my neighbors for their support since my children lives far way.
Never did I expect to walk without pain. I sometimes forget I have the brace on. I am very happy to have discover your product. 
At 40 years old, my goal wasn't to have the knees of an 18-year-old. I know mines have a lot of mileage. I was looking for something that can take away some discomfort when I squat or perform any lower body movement. You present me with the right brace for that.
Thank you for introducing this fantastic brace to my life.