---
Back Support Brace Description:
Orthopedic surgeons have been recommending back braces for a long time. The Back Support Brace helps with discomfort, provides stability to your lower back, straightens, and strengthens the lumbar spine thus relieves the intervertebral discs.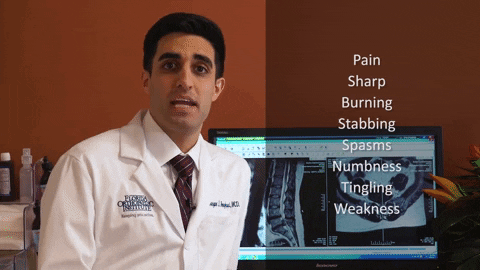 After hours of testing, we are sure about the benefits the Back Support Brace will offer you. The Back Support Brace ergonomic design provides comfort while serving you as an adjunct through recovery from your injuries and corrective therapy. The Back Support Brace does not only guarantees comfort but also provides support and relieves you from back pain.
Back Support Brace Sizing:
Happy Customers:
WHAT IS A HERNIATED DISC?
A disc herniation occurs when a portion of the intervertebral disc material bulges and 'sticks out' into the neural canal. This can produce pressure on the spinal cord or nerve roots and cause pain, numbness, or tingling into the arm or leg. This is very rarely a surgical condition and usually responds with non-surgical treatment. This is also often referred to as a 'slipped disc' and is much different than a ruptured disc fragment, which can sometimes lead to surgery.
WHAT ARE OTHER CAUSES OF LOW BACK PAIN?
There are many other conditions that can cause back pain. Some of these are congenital, such as scoliosis. Most causes of back pain, however, result from an injury or trauma.

Common causes of back pain include:
Muscle Strain

Bulging or herniated disc

Degenerative disc disease
Spinal stenosis
Sciatica or pinched nerve
Sacroilliac Joint Inflammation
There are also many other conditions that can contribute to back pain. These conditions are almost always treated non-surgically, resulting in a successful outcome the vast majority of the time.
Used for patellar tracking disorder, patella subluxation or dislocation, patellofemoral pain syndrome, light MCL and LCL injury prevention, meniscus pain, knee sprains, knee arthritis, runner's knee, jumper's knee, chondromalacia, patellar tendonitis, and more.
No. They have a specially designed gripping strip on the inside to hold the it up regardless of how hard you move or exercise.
Using a fabric tape measure, stand up and measure the circumference around the center of your kneecap. To get the most accurate measurements, we recommend having a close family member or friend assist you. Refer to our sizing graphic in the photos above to choose the right size.
Yes, but this knee brace is meant to fit against your skin for a better grip. It can be worn above tight pants or leggings if necessary.
This knee brace can be comfortably worn all day while sitting, standing, and during physical activity.
Yes! We offer a simple no-hassle returns and exchange process. Simply contact us by email info@corespirited.com and we'll ship a replacement or arrange a refund.
Delivery takes 3-6 days to the USA, and 5-12 days to Canada, United Kingdom, and Australia.
What Customers Are Saying
I'm a 55 years Old, without this supsupport, my movement would've been very limited. I'll be bothering my neighbors for their support since my children lives far way.
Never did I expect to walk without pain. I sometimes forget I have the brace on. I am very happy to have discover your product. 
At 40 years old, my goal wasn't to have the knees of an 18-year-old. I know mines have a lot of mileage. I was looking for something that can take away some discomfort when I squat or perform any lower body movement. You present me with the right brace for that.
Thank you for introducing this fantastic brace to my life.