Compression Therapy, Varicose Vain, Blood Circulation, Muscle Relaxer, Socks (Come in 3 Pairs)
---
 Description
The medically proven Core Compression Sock improved Blood Circulation. Our Graduation Compression technology (20-30mmHg) provides the ideal compression for maximum boost of blood and oxygen circulation. The Compression Socks help reduce lactic acid build up and aids muscle recovery in your calf, ankle, feet, legs, and release pressure.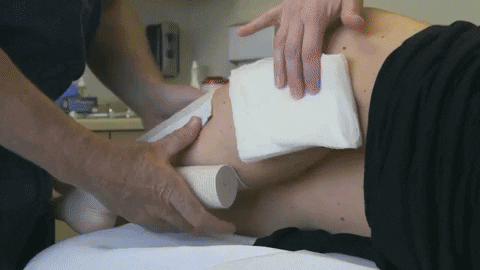 A Durable Compression Sock designed to last, without compromising quality or Comfort. Double-stitched Fabric your legs will thank you. Feel the immediate Comfort and remarkable design of your new Stamina Long Sock Tights. The compression socks were created for multi-purpose  benefits such as:  
Arthritis Ankles and Knees 
Burning and Throbbing Legs
Read Marie's experience with the Compression Socks. 
Read Rosalyn's experience with the Compression Socks. 
 Why the Compression Socks? 
Boost Circulation in Your Legs
Prevent Blood From Pooling in Your Leg Veins
Reduce Orthostatic Hypotension, which causes Lightheadedness or Unsteadiness When you stand
Help prevent Venous Ulcers
Prevent Development of Deep vein Thrombosis in your legs.
A Compression Socks that Finally Fit? 

The Compression Socks comes in various sizes that fit various leg sizes: 
What can you benefit from wearing the Core Compression Socks?
Increase Circulatory Health
Helps prevent varicose veins
Helps prevent DVT and blood clots
Relief from discomfort associated with minor/moderate edema, CVI, and venous conditions
Who Are The Core Compression Socks Made For? 
People suffering from circulatory issues 
Frequent travelers & Flyers 
People diagnose with Varicose vein
People with Thrombosis in Leg
Signs You Could Benefit From The Core Compression Socks?
Do you experience swollen legs from time to time or when taking a long flight? If yes, it is a sign that you need compression socks to help release pressure 
Do you experience muscle stiffness? The Core Compression Socks help relaxes the leg muscles. 
Do you have swollen veins in your leg? This might be a sign of varicose vein. The Core Compression Socks is medically prescribed to ease the condition. 
Highlighted Features: 
Four Zones of graduated Compression 
Soft, comfortable and durable fabric 
Uniques weaving technic and material 
Made of breathable, elasticated fabric 


Include Anti - Moisture technology to prevent perspiration
Keep legs and feet cool because of the breathable fabric 
 3D technology with breathable fabric, achieving an excellent balance
Between compression and comfort
Benefits of Wearing Compression Socks Daily
Varicose veins - they are swollen and enlarged veins that usually occur on the legs and feet. They may be blue or dark purple, and are often lumpy, bulging or twisted in appearance.
Other symptoms include:
Aching, heavy and uncomfortable legs
Swollen feet and ankles
Burning or throbbing in your legs
Muscle cramp in your legs, particularly at night
Dry, itchy and thin skin over the affected vein
The symptoms are usually worse during warm weather or if you've been standing up for long periods of time. They may improve when you walk around or if you rest and raise your legs.
Compression socks Daily  usage: 
Improve Recovery and Endurance
Reduce muscle recovery time
Relief for muscle stiffness and pain
Prevent strain, injury, and fatigue 
Decrease lactic acid build-up
Relieve pressure from flying
When to see a GP
If you have varicose veins and they do not cause you any discomfort, you may not need to visit a GP.
Varicose veins are rarely a serious condition and do not usually require treatment.
But speak to a GP if:
Your varicose veins are causing you pain or discomfort
The skin over your veins is sore and irritated
The aching in your legs is causing irritation at night and disturbing your sleep
The GP can diagnose varicose veins based on these symptoms, although further tests may be carried out.
Read about diagnosing varicose veins.
Causes of varicose veins
Varicose veins develop when the small valves inside the veins stop working properly.
In a healthy vein, blood flows smoothly to the heart. The blood is prevented from flowing backward by a series of tiny valves that open and close to let blood through.
If the valves weaken or are damaged, the blood can flow backward and collect in the vein, eventually causing it to be swollen and enlarged (varicose).
Certain things can increase your chances of developing varicose veins, such as:
Having a close family member with varicose veins
Having a job that involves long periods of standing
Read about the causes of varicose veins.
Treating varicose veins
If treatment is necessary, your doctor may first recommend using compression stockings, taking regular exercise and elevating the affected area when resting.
If your varicose veins are still causing you pain or discomfort, or they cause complications, they can be treated in several ways.
The most common treatment options include:
Endothermal ablation – where heat is used to seal affected veins
Sclerotherapy – this uses special foam to close the veins
Ligation and stripping – the affected veins are surgically removed
It's unlikely you'll receive treatment on the NHS for cosmetic reasons – you'll have to pay for cosmetic treatment privately.
If you do feel you require treatment, it might help if you print out treatment options for varicose veins to discuss with the GP.
Preventing varicose veins
There's little evidence to suggest you can stop varicose veins from getting worse or completely stop new ones from developing.
But there are ways to ease symptoms of existing varicose veins, such as:
Avoiding standing or sitting still for long periods and trying to move around every 30 minutes
Taking regular breaks throughout the day, raising the legs on pillows while resting to ease discomfort
Exercising regularly – this can improve circulation and help maintain a healthy weight
Types of varicose veins
There are several types of varicose veins, such as:
Trunk varicose veins – these are near to the surface of the skin and are thick and knobbly; they're often long and can look unpleasant
Reticular varicose veins

 

– these are red and sometimes grouped close together in a network
Telangiectasia varicose veins – also known as thread veins or spider veins, these are small clusters of blue or red veins that sometimes appear on your face or legs; they're harmless and, unlike trunk varicose veins, do not bulge underneath the surface of the skin
Used for patellar tracking disorder, patella subluxation or dislocation, patellofemoral pain syndrome, light MCL and LCL injury prevention, meniscus pain, knee sprains, knee arthritis, runner's knee, jumper's knee, chondromalacia, patellar tendonitis, and more.
No. They have a specially designed gripping strip on the inside to hold the it up regardless of how hard you move or exercise.
Using a fabric tape measure, stand up and measure the circumference around the center of your kneecap. To get the most accurate measurements, we recommend having a close family member or friend assist you. Refer to our sizing graphic in the photos above to choose the right size.
Yes, but this knee brace is meant to fit against your skin for a better grip. It can be worn above tight pants or leggings if necessary.
This knee brace can be comfortably worn all day while sitting, standing, and during physical activity.
Yes! We offer a simple no-hassle returns and exchange process. Simply contact us by email info@corespirited.com and we'll ship a replacement or arrange a refund.
Delivery takes 3-6 days to the USA, and 5-12 days to Canada, United Kingdom, and Australia.
What Customers Are Saying
I'm a 55 years Old, without this supsupport, my movement would've been very limited. I'll be bothering my neighbors for their support since my children lives far way.
Never did I expect to walk without pain. I sometimes forget I have the brace on. I am very happy to have discover your product. 
At 40 years old, my goal wasn't to have the knees of an 18-year-old. I know mines have a lot of mileage. I was looking for something that can take away some discomfort when I squat or perform any lower body movement. You present me with the right brace for that.
Thank you for introducing this fantastic brace to my life. 
I am a woman in my 60s who has problems with swelling in ankles & feet. My doctors recommended compression socks, which I was not happy about until I discovered these. This works for me. I don't have to worry about shoes that fit in the morning and then are painfully tight later in the day. I also tried 20-30 mmhg compression socks, but they were difficult to get on and I didn't see much more of a difference. I have ordered 2 additional sets of these because I love them! Highly recommend.
These socks are fantastic. I ordered an xl. They were so comfy. Perfectly supportive, yet didn't leave my legs with painful marks. I highly recommend these. No static cling. Comfortable for 10+ hour shifts.
good mild to medium compression and easy to put on and off.... I would love to find a compression sock this length that is toeless. I cut off the toes because toeless socks in items i have used are always too long. The length of these are perfect for me. I wear sock over the compression socks so the ragged edge resulting from cutting off the toes doesn't show and the shoe keeps it from riding up. still I would love a toesless that I don't have to cut. I hand wash and the elasticity after many washing is still good.
These compression socks fit very well and are very easy to put on, unlike some I've used over the years. I was, for years, a professional compression hose fitter. Try getting on compression panty hose if you want a challenge! This socks are a piece of cake to put on and they seem to be made of a material that will stand up to repeated washings. They fit well, and do a great job for a lighter compression stocking. Try these and you will be amazed at how much better your feet and legs will feel at the end of the day! You would be surprised at the number of my patients who refused to believe that advice, only to say, "Wow, I wish I had listened to you and put them on sooner!"
These are really nice. I give them four stars simply because they are too loose in the toe and foot area which makes them fine for standing but I wouldn't want to use them for running and have loose fabric rubbing on my toes. Still, if you need compression socks for daily wear I highly recommend these. They wash and dry easy, retain their shape, and as someone who has a hard time finding nice knee socks that fit well, are just nice as knee socks in general because they don't cut in to your leg or slide down. If you're looking to try compression socks out for the first time, or just want a selection, I recommend these.