Core Ankle Brace I Ankle Brace for Sprained Ankle, Ankle Support Brace with Side Stabilizers for Men & Women , Ankle Splint Stabilizer, Ankle Protection, Ankle Supports
---
Core Ankle Brace Description
Statistics have shown that ankle-related injuries are some of the most common joint injuries that can occur. To effectively help you recover from ankle injuries, strains or simply protecting your ankle. The Core Ankle Brace will provide you with support and aid your recovery. 
Suitable for: Ankle Sprain, Medical Splint, Orthosis, Ankle Protection, Tendonitis, Plantar and all kind of sports.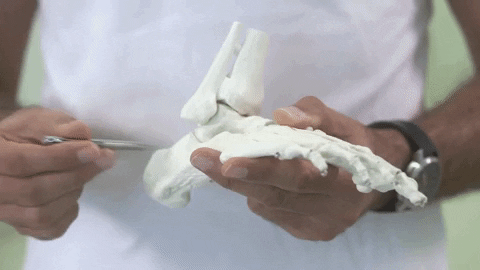 Similar to a safety belt for your ankles, the Core Ankle Brace provides support during critical movements. The Core Ankle Brace is proven to relieve ankle pain and protect against injuries. That is why it is one of the most recommended ankle braces by podiatrists. It reduces irritation and swelling (post-traumatic, post-operative, and chronic) and supports joint mobility. The brace activates muscular stabilization and promotes movement control, thus provides active recovery. 
This ankle support provides support and protection for many conditions and injuries, such as:
Recommendations From Medical Professionals: 
Determining Your Size: 
Hear From Some of Our Happy Customers: 
Why Does My Ankle Hurt:
It's a tear in the tissues (called ligaments) that hold your ankle bones together. It often happens when your foot rolls sideways. Your ankle may bruise and swell. You might not be able to put weight on it.  RICE is the best way to treat it:
Rest
Ice for 20 minutes at a time
Compress with an elastic bandage
Elevate your ankle -- lift it above your heart
Used for patellar tracking disorder, patella subluxation or dislocation, patellofemoral pain syndrome, light MCL and LCL injury prevention, meniscus pain, knee sprains, knee arthritis, runner's knee, jumper's knee, chondromalacia, patellar tendonitis, and more.
No. They have a specially designed gripping strip on the inside to hold the it up regardless of how hard you move or exercise.
Using a fabric tape measure, stand up and measure the circumference around the center of your kneecap. To get the most accurate measurements, we recommend having a close family member or friend assist you. Refer to our sizing graphic in the photos above to choose the right size.
Yes, but this knee brace is meant to fit against your skin for a better grip. It can be worn above tight pants or leggings if necessary.
This knee brace can be comfortably worn all day while sitting, standing, and during physical activity.
Yes! We offer a simple no-hassle returns and exchange process. Simply contact us by email info@corespirited.com and we'll ship a replacement or arrange a refund.
Delivery takes 3-6 days to the USA, and 5-12 days to Canada, United Kingdom, and Australia.
What Customers Are Saying
I'm a 55 years Old, without this supsupport, my movement would've been very limited. I'll be bothering my neighbors for their support since my children lives far way.
Never did I expect to walk without pain. I sometimes forget I have the brace on. I am very happy to have discover your product. 
At 40 years old, my goal wasn't to have the knees of an 18-year-old. I know mines have a lot of mileage. I was looking for something that can take away some discomfort when I squat or perform any lower body movement. You present me with the right brace for that.
Thank you for introducing this fantastic brace to my life. 
Great ankle brace
I have tried numerous ankle braces. Most didn't work. The ones that work were bulky trying to wear with shoes. This brace works great so far. Been wearing it everyday for two weeks. Supports my ankle and is not that bulky. I do wear a thin nylon sock under it cause it rubs back of my ankle. I play disc golf and walk on different terrain with rocks and sticks. I have stepped on rocks and the support has saved me numerous times. I like it so far.
I liked that you can wear this ankle brace inside your shoe to prevent further injury. It is light weight.
I feel it does not give the kind of support that a lace up ankle brace does, but it is less bulky.
After purchasing a few other versions this is definitely the best and one I would recommend. This one is not for the initial issue but during my rehab from ankle side tendon tears and Achilles' tendon damage it is fantastic for my rehab. It does not completely restrict movement but offers a lot of support and is comfortable to wear, way more than the others I purchased.
I was unable to walk, put pressure on my ankle with other ankle supports unassisted. (Without a crutch or at least highly utilizing a cane to support me)
This is a life saviour. I have had chronic ankle issues since High School and I'm almost 39. almost 2 years ago I had a major ankle reconstruction on my left ankle and it has been super since the surgery. My right ankle is heading down the same path and I don't want anymore freaking surgeries as I have alos had my left knee, shoulder (rotator cuff) and left bicept tendon - hence I searched online forever and have tried probably 6 different types of ankle braces which I could wear inside my shoes, sneakers, or cleats and none compared to this one. I play fast pitch softball - YES fast pitch - and MUST use it on my right ankle to be able to run the field without worring that I will end up twisting my right ankle and need surgery on the spot. I can't stress it enough. If you have ankle issues, you MUST try this one as you will not go wrong. I wish I could be a spoke's person for this product and get some $$ - for real. You decide after you see the attached picture. Good luck
The brace was delivered on time and undamaged, so for shopping experience I give it 5 stars. The brace itself worked wonders for my horrible left ankle. I use it for basketball, and to get an idea of how bad my left ankle is... I walk and a rock will cause my LAnkle to twist... the first time I played in the brace it was very uncomfortable and extremely painful on the arch of my foot. I would need to readjust every so often, but after a few wears they were more comfortable. The brace prevented my ankle from twisting multiple times, so I highly value the brace. I will give it 4 stars.