Hip, Hamstring and Quadricep Compression Flexor Support Strap & Groin Brace for Strains, Pulls, Tears, Arthritis and Tendonitis
---

Hip Support Brace: 

Failure to invest in proper hip and groin support could further complicate a strain or pull, costing you weeks of recovery time. Fortunately, this brace provides therapeutic compression to protect your muscles from injury or reduce the risk of further damage if an injury has already occurred. If you've experienced irritating pain near your upper thigh or hip and are looking to get the best support throughout everyday tasks, sports, or workouts, try out our hip and groin wrap.
This unique groin brace can provide relief and protection for a number of injuries to the hip or groin, including:
Pulled groin

Hip Flexor tendonitis

Hamstring tears & injuries
Hip abductor injuries
Hip flexor strains
Hip tendonitis
Quadricep strains
Hamstring tears
Hip abductor injuries
Hip flexor strains
Hip tendonitis
Quadricep strains
Hip arthritis or osteoarthritis
Post-pregnancy pubic symphysis dysfunction
Sciatica nerve pain
Inguinal hernias
Hip bursitis
Groin support
Hear It From Our Happy Customers: 
Meet Brenda...
Meet Glenn... 
Features:
Effective  Hip Pain Relief: Support the adductor muscles and tendons around the groin, quads, and thighs
Support hamstring injuries 
Straps to prevent quad stains 
Anti-Slip & Breathable: keeps hips and legs cool while promoting blood circulation and reduce recovery time.
Universal: Can be worn on both right and left leg and they are suitable for women.
Ergonomic Design: soft compression and support to help with recovery.
Wearing Instruction: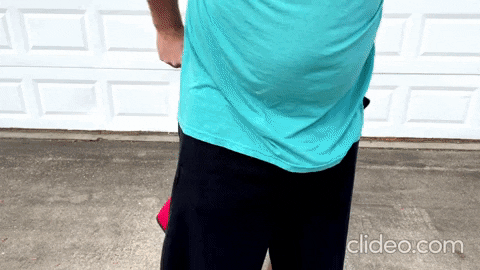 Core Hip Brace Sizing: 
You should know this:  
Problems within the hip joint itself tend to result in pain on the inside of your hip or your groin.
Hip pain on the outside of your hip, upper thigh, or outer buttock is usually caused by problems with muscles, ligaments, tendons, and other soft tissues that surround your hip joints. 
Signs That Your Need A Hip Brace
Are you experiencing soreness to your hip or groin that makes walking uncomfortable? 
Do you experience hip, groin, or hamstring pain? 
 Are you going through hip or groin rehabilitation?
What can you benefit from wearing A Hip Brace?
Provides stability to hip while performing movements
Increases blood flow and reduces recovery time by providing a soothing
Compression relief to the hip and groin
Helps with the faster recovery from hip, groin, and sciatica injuries
Decreases strain and increase the mobility of muscles
Adjustable compression wrap increases blood circulation and retains therapeutic heat to improve mobility
Causes of hip pain that comes from the groin
Groin strain happens when any of the muscles in your groin that connect your pelvis to your femur get injured by being stretched or torn. This causes inflammation and pain. It often happens because of overtraining or while playing sports, usually while you're running or changing direction, or by moving your hip awkwardly. A muscle strain can be mild or severe depending on how much muscle is involved and how much strength is lost. A brace can help relieve pain and help through recovery. The Core Hip Brace is developed to help you recover from such injuries.
Muscle Strain Pain
Pain caused by a muscle strain gets worse with movement, especially when you:
flex your knee towards your chest
The pain comes on suddenly. Muscle spasms may occur. You may notice bruising or swelling in your groin and upper thigh. The range of motion of your hip may be reduced, and your leg might feel weak. You might have trouble standing or walking because of the pain. 
You might Relate to this: 

Problems within the hip joint itself tend to result in pain on the inside of your hip or your groin.
Hip pain on the outside of your hip, upper thigh, or outer buttock is usually caused by problems with muscles, ligaments, tendons, and other soft tissues that surround your hip joints. 
Use Core Hip Brace as an adjunct to help with the listed injuries: 
Osteoarthritis
What is it?
As you get older, cartilage — which helps the bones in a joint move smoothly — wears away. This can lead to osteoarthritis, which causes painful inflammation in the joint.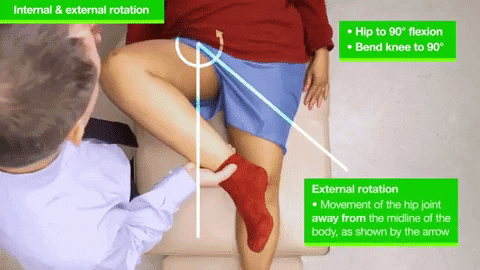 Symptoms
This causes constant pain and stiffness in your hip joint and groin. You may feel or hear grinding or clicking in your hip. The pain improves with rest and worsens with movement and standing.
Bursitis
What is it? 
Trochanteric Bursitis is inflammation of the fluid-filled sac, called a bursa, on the outside of your hip. Bursae reduce friction between the tendon and underlying bone. This is usually an overuse injury. The bursa gets irritated because of repetitive movements, which causes pain.
Symptoms: 
Bursitis is a sharp pain that gets worse with movement, prolonged standing, or when lying on the affected side. The pain can be severe.
Femoracetabular Impingement
What is it? 

In this condition, the two bones in the hip joint come in abnormally close contact, which can pinch soft tissue or irritate the joint, causing pain.
Symptoms:
The pain gets worse after sitting for a long time, standing for a long time, and with movements such as getting out of a car. The pain may limit how much you can move your hip.
Hip fracture
What is it?
A break in the upper part of the femur can happen if it's hit very hard, from a fall. If you have osteoporosis and hip fractures occur most frequently in the elderly. 
Symptoms:

Breaking a bone in your hip can be very painful. It gets worse when you try to move your leg or bear weight with it.
Used for patellar tracking disorder, patella subluxation or dislocation, patellofemoral pain syndrome, light MCL and LCL injury prevention, meniscus pain, knee sprains, knee arthritis, runner's knee, jumper's knee, chondromalacia, patellar tendonitis, and more.
No. They have a specially designed gripping strip on the inside to hold the it up regardless of how hard you move or exercise.
Using a fabric tape measure, stand up and measure the circumference around the center of your kneecap. To get the most accurate measurements, we recommend having a close family member or friend assist you. Refer to our sizing graphic in the photos above to choose the right size.
Yes, but this knee brace is meant to fit against your skin for a better grip. It can be worn above tight pants or leggings if necessary.
This knee brace can be comfortably worn all day while sitting, standing, and during physical activity.
Yes! We offer a simple no-hassle returns and exchange process. Simply contact us by email info@corespirited.com and we'll ship a replacement or arrange a refund.
Delivery takes 3-6 days to the USA, and 5-12 days to Canada, United Kingdom, and Australia.
What Customers Are Saying
I'm a 55 years Old, without this supsupport, my movement would've been very limited. I'll be bothering my neighbors for their support since my children lives far way.
Never did I expect to walk without pain. I sometimes forget I have the brace on. I am very happy to have discover your product. 
At 40 years old, my goal wasn't to have the knees of an 18-year-old. I know mines have a lot of mileage. I was looking for something that can take away some discomfort when I squat or perform any lower body movement. You present me with the right brace for that.
Thank you for introducing this fantastic brace to my life. 
I wear this at work. 8-12 hours in a warehouse on hard concrete floors. This provides good support. It's comfortable. I've not had any sciatica pain since I started wearing it. Previously experienced sciatica pain daily.
Arrived a week ago. Product is exactly what I was hoping for and does assist my husband on some of his bad days. thanks.
My wife started going to the gym a lot more than normal and sciatica pain had started up. Muscle relaxers and massage didn't help much, so I figured this was worth a shot before making another appointment with the doctor. Glad we tried a brace. This has completely eliminated the pain she was having and she says it's comfortable to wear, even when working out or running at the gym.
LIKE how it is adjustable and holds it's shape all day long. Took some trial and error, but finally got it right. Because I have arthritis in my back, bending or twisting isn't an option to adjust the fit while trying to wear it. I finally adjusted it off the body and slipped it on like pants. This makes it a whole lot easier when having to use the facilities because there is very minimal adjustment afterward. Does keep hip a little more stable with mild compression. Is warmer and not as breathable as I expected, but keeping the hip warm and stable is a nice trade off.
I purchased this for a friend who has a pulled groin ligament... that's very painful. Unable to walk at all unless on crutches, this support brace has worked wonders for her.