---
Description: 
 Chiropractors have been recommending posture corrector for a very long time because of their immeasurable benefits in not only correcting posture but alleviate pain and stress. Sitting activities often have negative consequences: shoulders-dropped, forward head, and the thoracic spine in an unnaturally arched. The Core Posture Corrector prevents bad posture by gently reminding you to take your shoulders back and straighten your spine.
Made of soft materials, the Core Posture Corrector trains you to maintain good posture while allowing the muscles to activate themselves. The posture trainer reminds you to keep an upright posture. This better helps train your muscles, prevent neck and back pain. Following months of experimentation, we can tell you with certainty about the effectiveness of the benefits the Core Posture Corrector has to offer.
Features of the Core Posture Corrector: 
 
Sizes
Please choose a size according to the recommendations below. 
Edward's Experience With The Core Posture Corrector.
Ingrid's Experience With The Core Posture Corrector
Features and Specifications: 
Why The Core Posture Corrector? 
Posture Alignment: fix and correct your upper back, shoulders, neck, and spine while sitting, standing, or moving
Alleviate Pain: ease pressure and pressure for improved focus and energy
Spinal Health Protection: trained natural and comfortable movement while keeping chest and shoulder upright 
Relieve Tension and stress - research has shown that proper posture helps improves focus and relax muscles
Discreet - can be wear similar to an undergarment undetected
Unisex - adjustable, and it is suitable for both men and women
Mike's Experience With The Core Posture Corrector
Some Signs Showing That You Could Benefit From The Core Posture Corrector?
Do you slouch in a chair?

 Slouching doesn't always cause discomfort. However, it can place strain on sensitive muscles and soft tissues. 
Hunched back and 'text neck'?

 Hunching over your keyboard is usually a sign that you have a tight chest and a weak upper back. Over time, this type of posture can contribute to developing a rounded upper back, which can cause shoulder and upper back stiffness. 
 Do you Poke your chin?

 Sittig too low, a screen set too high, a hunched back, or a combination of all 3. 
Why Doctors Believe Good Posture Matters
How many times have you heard about the immeasurable benefits of having good posture? Asked Dr. Behrens, "Good posture does not only enable you to develop strength in your lower back, but it also helps reduce tightness in your neck, shoulders, and upper back."
But did you know good posture can also:
raise energy levels

aid with breathing

reduce injury risks

make you appear taller
Yes, practicing and maintaining good posture contributes to your overall well-being and ease of performing daily activities.
Most of us understand the importance of good posture, but there are times when we forget to cue ourselves to sit up straight or maintain a neutral spine.
To help with this, many people find relief with a posture corrector.
Correct Your Posture By Wearing the Core Posture Corrector and Performing These Exercise
In addition to wearing The Core Posture Corrector while at work, traveling, or doing other daily activities, you can perform these exercises to strengthen the muscles that support your posture. 
Posture Check - Stand again the wall to check your posture. You shouldn't have more than 2 inches between the wall and your neck. 
Awareness - According to Dr. Austin D. Life Chiropractic SF, when it comes to posture, awareness is the most important exercise. 
Child's Pose - do 5 minutes morning and Night. Child's Pose helps lengthen and stretch the spine, which is used for slouching after years of bad posture. 
Standing Forward Fold - 
Start with 2 minutes of Child's Pose and then Practice 30-Second intervals of Standing Forward for 4 minutes. This pose deeply stretches the hamstrings, stretches the hips, and can help release any tension in the neck and shoulders.
Cat-Cow
Follow the stretch sequence in the morning and at night. Cat-Cow improves posture and balance -- ideal for back pain. The synchronized breath movement will also help you relax and ease some stress.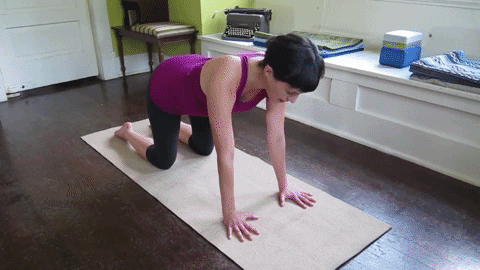 Used for patellar tracking disorder, patella subluxation or dislocation, patellofemoral pain syndrome, light MCL and LCL injury prevention, meniscus pain, knee sprains, knee arthritis, runner's knee, jumper's knee, chondromalacia, patellar tendonitis, and more.
No. They have a specially designed gripping strip on the inside to hold the it up regardless of how hard you move or exercise.
Using a fabric tape measure, stand up and measure the circumference around the center of your kneecap. To get the most accurate measurements, we recommend having a close family member or friend assist you. Refer to our sizing graphic in the photos above to choose the right size.
Yes, but this knee brace is meant to fit against your skin for a better grip. It can be worn above tight pants or leggings if necessary.
This knee brace can be comfortably worn all day while sitting, standing, and during physical activity.
Yes! We offer a simple no-hassle returns and exchange process. Simply contact us by email info@corespirited.com and we'll ship a replacement or arrange a refund.
Delivery takes 3-6 days to the USA, and 5-12 days to Canada, United Kingdom, and Australia.
What Customers Are Saying
I'm a 55 years Old, without this supsupport, my movement would've been very limited. I'll be bothering my neighbors for their support since my children lives far way.
Never did I expect to walk without pain. I sometimes forget I have the brace on. I am very happy to have discover your product. 
At 40 years old, my goal wasn't to have the knees of an 18-year-old. I know mines have a lot of mileage. I was looking for something that can take away some discomfort when I squat or perform any lower body movement. You present me with the right brace for that.
Thank you for introducing this fantastic brace to my life. 
I ordered several braces to try, I kept this one.
Returned the others that i got to try
Im small and i cant get it much tighter for my shoulders. I have a big fat belly and i can velcro it. I do have a hard time grabbing the waist bands. But i like it. There are pads to protect the underarm. They move a lot but i deal.
Feels a little foriegn at first wearing , but becomes comfortable with consecutive wearings. Very supportive for hours of relief.
It's comfortable to wear, especially with extra padding. Size was good but did have a strong odor at first, which did fade in a few days. I haven't been using it long but it does help correct posture, which is what I wanted.
It's comfortable to wear, especially with extra padding. Size was good but did have a strong odor at first, which did fade in a few days. I haven't been using it long but it does help correct posture, which is what I wanted.