Core Brace Support & Strap I For Knee Pain, Workout, Patella, MCL, ACL
---
Description
Every day, your knees experience a lot of stress. Over time, this stress can take a toll on the muscles, ligaments, tendons, and bones that make up your knee joints, causing them to be susceptible to pain and injuries.
This versatile, lightweight knee stabilizer provides maximum support to your unstable patella (kneecap). Although it's short, thin, and lightweight enough to be worn under clothes so you can maintain your day-to-day activities without interference, this patella brace protects against knee instability and pain, as well as further damage and injury.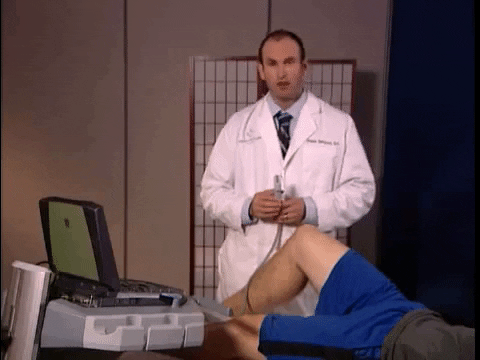 These qualities and more make this support brace great for treating many knee conditions that cause patellar tracking issues and kneecap pain, including:
Patellar tracking disorder
Kneecap subluxation
Patellar dislocation
Patellofemoral pain syndrome
Knee sprains
Patellar tendon injuries including runner's knee, jumper's knee,
Meniscus pain
Knee Pain
MCL and LCL injuries
Read George's experience with the Core Brace. 
Read from Vincent, another customer of ours experience with the Core Brace. 
Why The Core Brace?
The Core Brace supports the patellar around the knee and absorbs shocks. It reduces pain associated with discomfort, patellar injuries, and wear and tear. The ergonomic-shaped sleeve profiles your kneecap, providing support and stability and decreasing pain while improving function. Premium material ensures that compression is uniform throughout and stays in place for any movement.
Adjustable to fit multiple sizes:
Adjustable to provide suitable tight compression to your knee. Two-stage adjustable design to fit different leg sizes. Dual-Strap Design offered flexibility to adjust the tightness.
How To Wear:
What can you benefit from wearing the Core Brace?
Slow knee disease progression

Improves mobility and function to engage in an exercise program

Provides calmness to the tissues which tolerate exercise versus when the tissues are irritable

Stabilized knee during exercise
Who Are The Core Braces Made For?
People with swelling to their knee

Load management on your knees

People that are actively moving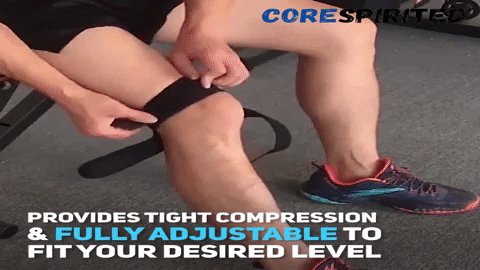 Signs You Could Benefit From The Core Brace
Do you feel like your knee is about to buckle or give away? If yes, it is a sign that your knee is unstable. The Core Brace helps with knee stabilization. 


Do you have frequent knee pain? If yes, it is a sign that your knee is inflamed. The Core Brace helps reduce inflammation.


Do you have swelling in your knee? If yes, it is a sign of injuries associated with overuse or trauma. The Core Brace helps with manageable irritable discomfort. 


Highlighted Features: 

Improve Stability: Patella dual strap is designed to boost the overall stability of the knee and improve patella tracking by applying pressure upper and below the kneecap or at the sides. 
Relieve Knee Pain: Adding moderate compression below the kneecap. Effectively support your sore knee caused by over-usage and or stiff muscle. 
Product Material: Uses unique perforated and porous Lycra fabric. With ventilating holes, it provides comfortable and breathable protection.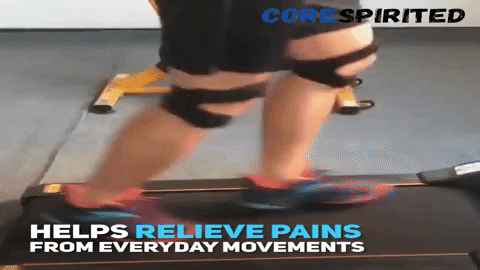 I Don't have Chronic discomfort, Is the Core Brace Still for Me?
Although knee braces have mostly been studied in people with chronic knee discomfort and people with persistent pain, the knee brace provides tremendous benefits for people with knee pain, swelling, muscle weakness, and impaired function of the leg. The Core Brace provides stability and manages the pain and associated swelling while addressing some mechanical issues on the knee.
When to Use Core Brace?
While walking or when doing physical activities

When you are on your feet out and about

We encourage users of the Core Brace not to wear the Core Brace more than necessary and to take it off while resting
More Dos and Don'ts for Using Knee Braces 
The knee brace shouldn't be too loose or too snug. 

Watch for redness and chafing. It should be just enough snug enough that it's going to stay in place


Keep brace clean, especially in hot weather – 

it is essential to clean knee braces routinely as the bacteria in sweat can cause skin irritation and even infection.


Don't have anything between the brace and your skin - 

the brace should be worn against the skin and not over clothing.


More expensive doesn't necessarily mean better - 

"I have tried a compression sleeve - did not help," said a Core Brace user. "I did feel relieved with the Core Brace. It feels comfortable and easy to adjust.




Can Chronic Knee Disease Be Cured? 
According to the Centers for Disease Control (CDC) and the National Health Service (NHS), there's no cure for chronic knee ailments. However, some treatments can help slow it down. A knee brace can take the pressure off the part of your joint most affected by over-usage and help relieve pain. If your knee feels like it might buckle, a knee brace can also help. You stand and move around with confidence.
The Core Brace provides support to the soft tissues around the knee thereby helping alleviate pain. Wearing a Knee brace makes people feel more comfortable exercising. According to the Center for Disease Control (CDC), exercise and strengthening help treat symptoms of knee ailments.
How Does a Knee Brace Help Reduce Discomfort? 
The Core Brace provides support and stability to the knee while eliminating the discomfort associated with other knee braces.
Protected By 90 Days Money Back Guarantee!
If you are not 100% satisfied with the product and the service we offer - you are protected by our 90-day quarantee on all purchases. Should you have any problem at all then e-mail us at info@corespirited.com for a fast response and no questions asked exchange or refund.
Used for patellar tracking disorder, patella subluxation or dislocation, patellofemoral pain syndrome, light MCL and LCL injury prevention, meniscus pain, knee sprains, knee arthritis, runner's knee, jumper's knee, chondromalacia, patellar tendonitis, and more.
No. They have a specially designed gripping strip on the inside to hold the it up regardless of how hard you move or exercise.
Using a fabric tape measure, stand up and measure the circumference around the center of your kneecap. To get the most accurate measurements, we recommend having a close family member or friend assist you. Refer to our sizing graphic in the photos above to choose the right size.
Yes, but this knee brace is meant to fit against your skin for a better grip. It can be worn above tight pants or leggings if necessary.
This knee brace can be comfortably worn all day while sitting, standing, and during physical activity.
Yes! We offer a simple no-hassle returns and exchange process. Simply contact us by email info@corespirited.com and we'll ship a replacement or arrange a refund.
Delivery takes 3-6 days to the USA, and 5-12 days to Canada, United Kingdom, and Australia.
What Customers Are Saying
I'm a 55 years Old, without this supsupport, my movement would've been very limited. I'll be bothering my neighbors for their support since my children lives far way.
Never did I expect to walk without pain. I sometimes forget I have the brace on. I am very happy to have discover your product. 
At 40 years old, my goal wasn't to have the knees of an 18-year-old. I know mines have a lot of mileage. I was looking for something that can take away some discomfort when I squat or perform any lower body movement. You present me with the right brace for that.
Thank you for introducing this fantastic brace to my life. 
My husband noticed a difference with wearing these. He said that it helped alot. I will order another pair for my dad.
I bought this for one knee and when it came with 2, I used one to leave at work.. later I used one while I washed the other. It works for knee pain. I am not sure of the science behind it.. but it definitely made my knee pain more bearable!
My husband absolutely loves these knee straps & wears them everyday.
I love this knee strap too much. It is simple, easy to wear and not easy to drop. Putting it on to exercise can reduce pain and fatigue. And the wearing length of this knee pad can be adjusted according to the size of each person, so this knee pad is suitable for both my husband and me.
The only concern I have is durability as the velcro straps tend to wear on the knee brace material. I wear them occasionally on both knees. Otherwise, I love the knee braces. Gives me that added stability when hiking over rocky terrain. Helps with my bone on bone right knee the most. I would buy them again.