Ultra Knee Elite Sleeve I Patella Knee Pads I Compression Knee Sleeve
---
"Knee pain becomes more common as you age from simple wear and tear. Years of walking, running, and routine activities can cause the joints to weaken and become prone to inflammation." - Harvard Medical School
Description
Why We Love This Ultra Knee Sleeve: Top 4 Features & Benefits

Wide Range of Sizes Available

This compression sleeve is available in many sizes, perfect for a range of average adult to plus-size men and women. Plus, you can wear this lightweight sleeve interchangeably on your right or left leg, making it ideal to use again and again over time. Find the perfect fit and size for your knee by using a flexible measuring tape and referring to the sizing chart pictured above.

Targeted, Comfortable Compression

Unlike most common neoprene knee sleeves, this brace features a contoured silicone ring, designed to apply effective, targeted pressure. Not only will this support ring help protect and relieve pain caused by a problematic bursa, but it also helps to distribute unwanted, painful pressure away from the kneecap. Compression is the key to reducing inflammation and bursitis pain, so find some quick, cost-effective relief with this knee sleeve!

Made of Breathable & Lightweight Materials

Nothing is worse than feeling uncomfortably warm and sweaty in your knee brace. That's why this sleeve was designed with your comfort and all-day use in mind. The brace will apply soothing compression and pressure yet is lightweight and breathable as you are active throughout the day. Medical-grade materials help prevent this brace from rolling and sliding as you walk, run, climb stairs, and exercise.

Sleeve Offers Supportive Stabilization

Our bursitis brace features a silicone pad, which surrounds the kneecap to help stabilize and protect your weakened knee. The stabilizing pad will also help provide a relieving massage to the surrounding tissue as you wear the sleeve. Flexible, yet supportive stays are located on each side of the compression sleeve, allowing for an easy personalized fit and application. Plus, thanks to the stabilizing stays, you won't need to worry about any slipping or sliding of the brace as you wear it throughout the day.
The Ultra Knee Sleeve proves to be the most effective, ergonomic design and comfortable knee sleeve for people suffering from knee pain.
The Ultra Knee Sleeve manages discomfort, provides stability, and eases pain.



Why The Ultra Knee Sleeve?
The Ultra Knee Sleeve supports the patellar around the knee and absorbs shocks. It reduces the pain associated with patellar jumper's knee and runner's knee.
The ergonomic-shaped sleeve profiles your kneecap tightly to allow for the building of muscle.
Premium material ensures that compression is uniform throughout and stays in place for any physical activity.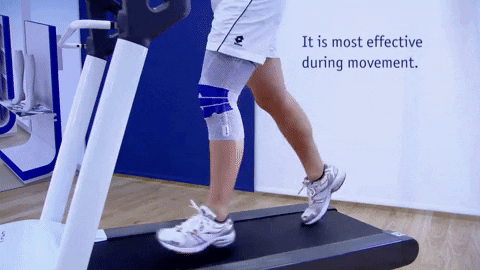 I Don't Have Chronic Knee Discomfort, Is The Ultra Knee Sleeve For Me?
Although knee braces have mostly been studied in people with knee ailments. The knee brace provides tremendous benefits for people with knee pain, swelling, muscle weakness, and impaired function of the leg.
The Ultra Knee Sleeve provides stability and manages the pain and associated swelling while addressing some mechanical issues on the knee.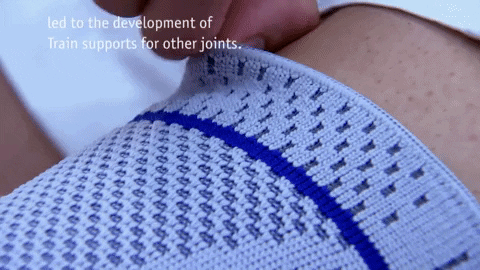 Who is the Ultra Knee Sleeve Made For? 
People with swelling to their knees

Load management on your knees

People that are actively moving
When to Use The Ultra Knee Sleeve?
While walking or when doing physical activities

When you are on your feet out and about

We encourage users of The Ultra Knee Sleeve not to wear the Core Brace more than necessary and to take it off while resting
Can Chronic Knee Disease Be Cured? 
According to the Centers for Disease Control (CDC) and the National Health Service (NHS), there's no cure for chronic knee ailments. However, some treatments can help slow it down. A knee sleeve can take the pressure off the part of your joint most affected by over-usage and help relieve pain. If your knee feels like it might buckle, a knee sleeve can also help. You stand and move around with confidence.
The Ultra Knee Sleeve provides support to the soft tissues around the knee thereby helping alleviate pain. Wearing a Knee Sleeve makes people feel more comfortable exercising. According to research exercise and strengthening, help treat symptoms of knee ailments.
How Does a Knee Sleeve Help Reduce Discomfort? 
The Knee Sleeve provides support and stability to the knee while eliminating the discomfort associated with other knee sleeve.
Protected By 90 Days Money Back Guarantee!
If you are not 100% satisfied with the product and the service we offer - you are protected by our 90-day quarantee on all purchases. Should you have any problem at all then e-mail us at info@corespirited.com for a fast response and no questions asked exchange or refund.
Used for patellar tracking disorder, patella subluxation or dislocation, patellofemoral pain syndrome, light MCL and LCL injury prevention, meniscus pain, knee sprains, knee arthritis, runner's knee, jumper's knee, chondromalacia, patellar tendonitis, and more.
No. They have a specially designed gripping strip on the inside to hold the it up regardless of how hard you move or exercise.
Using a fabric tape measure, stand up and measure the circumference around the center of your kneecap. To get the most accurate measurements, we recommend having a close family member or friend assist you. Refer to our sizing graphic in the photos above to choose the right size.
Yes, but this knee brace is meant to fit against your skin for a better grip. It can be worn above tight pants or leggings if necessary.
This knee brace can be comfortably worn all day while sitting, standing, and during physical activity.
Yes! We offer a simple no-hassle returns and exchange process. Simply contact us by email info@corespirited.com and we'll ship a replacement or arrange a refund.
Delivery takes 3-6 days to the USA, and 5-12 days to Canada, United Kingdom, and Australia.
What Customers Are Saying
I'm a 55 years Old, without this supsupport, my movement would've been very limited. I'll be bothering my neighbors for their support since my children lives far way.
Never did I expect to walk without pain. I sometimes forget I have the brace on. I am very happy to have discover your product. 
At 40 years old, my goal wasn't to have the knees of an 18-year-old. I know mines have a lot of mileage. I was looking for something that can take away some discomfort when I squat or perform any lower body movement. You present me with the right brace for that.
Thank you for introducing this fantastic brace to my life. 
Excellent product. It works very well keeping the knee tight and makes it easier to band. Make sure you order the right size cause the upper strap that was designed to hold the sleeve in place, is quite tight and is taking time to get use to.
Good compression sleeve and I would recommend. It is longer than the others I ordered and stays put.
I hurt my knee hiking and had to limp and crawl out of a slot canyon. Fortunately I only hyperextended the ligaments and tendons. This sleeve is aiding in my recovery as it an take easily 6 months for tendons to heal. Between it and therapy I look forward to next years hiking experiences
Probably the best knee brace I had. Ever since injuring my knee from basketball, I needed to wear a brace to prevent further injuries. Very tight and good fit. It provides a lot of support and better than my other need brace that I bought that cost more. No straps which is nice compared to my old one which keeps falling off after running around while wearing. It makes me feel a lot safer to prevent an injury.
I've only used this for a short time and I got it for arthritic knees running on uneven surfaces. I'm 67 and I noticed my knees tweek slightly from time to time. Sometimes left and other times right. I had an old brace but it cut off my circulation. This one keeps the knee from twerking but doesn't cut off the circulation. I'll see how long it lasts and/or doesn't stretch out. My measurement was 1/2 inch into the next larger size (17 inches) so I ordered the large. Seems snug enough but I got an e-mail saying it might stretch out and if it does for me to notify the maker. I don't anticipate that due to the materials (very elastic) and it seems well made.
This is not the kind of support you get from neoprene, but I find it preferable when using during exercise because it still lets the muscles/tendons work a bit at stabilization. It keeps them from getting weaker, but they still have enough support to not buckle. I LOVE that it's somewhat long, so that it's not just the knee that's protected but also a good 5-6 inches onto my calf/thigh as well (I'm 5'4"). It keeps a little more area warm and protected. Sizing true to the instructions on the chart - 5" above my knee I measured for an XL, had my doubts but it's perfect. I wear them during long walks and during/after karate for an hour or two. Highly recommend.