Open Patella Compression Brace | For Relief, Recovery and Protection
---
Description
The Open Patella  Knee Support provides support and compression following an acute and chronic knee injury, instability, discomfort, and mild knee injuries. They are also very suitable for protective and prophylactic use for sports activities.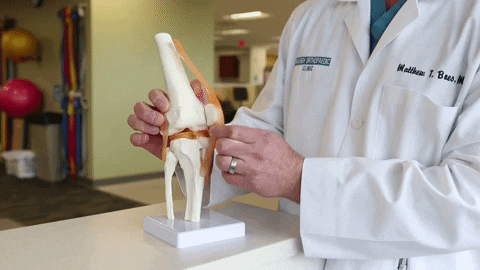 While there are a dozen ways to reduce your chances of joint dislocation and knee fracture as a result of injury, one of the many options is to wear a knee brace. This knee support is designed for knee relief, knee recovery, and knee protection.
Have you ever had an injury followed by severe pain? Generally, injuries can be excruciating. But when it comes to a knee injury, things may spiral out of control – especially if you have an active lifestyle. This compression all-purpose open patella brace is designed to help you mitigate: 

Patellar tracking disorder

Kneecap subluxation

Patellar dislocation

Patellofemoral pain syndrome

Knee sprains

Patellar tendon injuries including runner's knee, jumper's knee, and patellar tendonitis

Meniscus pain

Knee Pain
Anatomically knitted and multi-directional elastic fabric. Looser knit around the patella to prevent local edema.
Removable self-adhesive elastic strap for additional lateral and medial support, stability, and compression.
Silicone patellar buttress. Additional elastic strap for added compression & support. Fits either the left or right knee.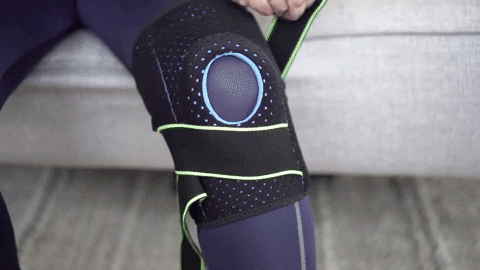 Read Magnus's experience with the Open Patella Brace.
Read Jim's experience with the Open Patella Brace.

Why the Open Patella Knee Brace? 

Cost-effective and supportive, it helps maintain proper patella alignment while its hinges help the knee prevent hyperextension
"Ideal if you're new to knee braces, this sleeve evenly distributes pressure to reduce inflammation while improving blood flow
Its bilateral hinges allow for ample movement while its side stabilizers ensure you don't feel weighed down
The pull-on sleeve promises to provide a four-way stretch and allow for a full range of motion while staying in place
What Can you Benefit From Wearing the Open Patella Compression Brace?
Reduces the painful effects of an injured knee by reducing its movement
Stabilize your knee after surgery
Keep dislocated patella in its place during workout or fitness activity
Transfer the weight off your injured knee to reduce the pain
Protects from injuries during sports, workouts, and exercise
   Suitable for: 
Load management on your needs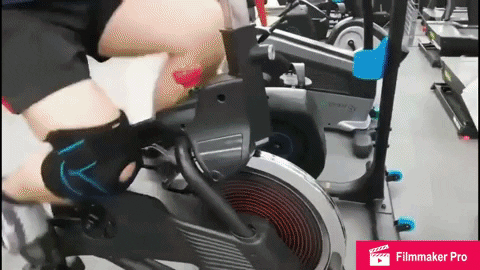 When Can I Benefit From The Open Patella Support
Do you feel like your knee is about to buckle or give away? If yes, it is a sign that your knee is unstable. The Open Patella Brace helps with knee stabilization. 


Do you have frequent knee pain? If yes, it is a sign that your knee is inflamed. The Open Patella helps reduce inflammation.


Do you have swelling in your knee? If yes, it is a sign of injuries associated with overuse or trauma. The Open Patella Support helps with managing irritable discomfort. 
Do you have soreness or inflammation in your knee? If yes, it is a sign of chronic knee discomfort. The Open Patella Support helps with managing this condition.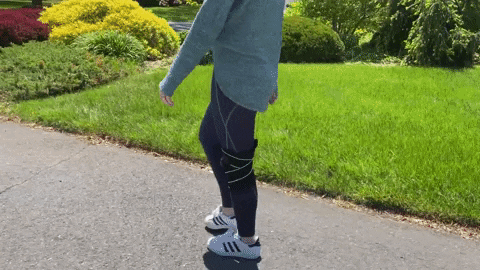 Highlighted Features: 

Improve Stability: Patella dual strap is designed to boost the overall stability of the knee and improve patella tracking by applying pressure upper and below the kneecap or at the sides. 
Relieve Knee Pain: Adding moderate compression below the kneecap. Effectively support your sore knee and or stiff muscle. 
Product Material: Uses unique perforated and porous Lycra fabric. With ventilating holes, it provides comfortable and breathable protection. 
Cause of Knee Pain
Knee pain can be caused by injuries, mechanical problems, and other problems.
Injuries
A knee injury can affect any of the ligaments, tendons, or fluid-filled sacs that surround your knee joint as well as the bones, cartilage, and ligaments that form the joint itself. Some of the more common knee injuries include:
Mechanical problems
Some examples of mechanical problems that can cause knee pain include:
Loose body.

 

Sometimes injury or degeneration of bone or cartilage can cause a piece of bone or cartilage to break off and float in the joint space. This may not create any problems unless the loose body interferes with knee joint movement, in which case the effect is something like a pencil caught in a door hinge.
This occurs when the tough band of tissue that extends from the outside of your hip to the outside of your knee (iliotibial band) becomes so tight that it rubs against the outer portion of your thighbone. Distance runners and cyclists are especially susceptible to iliotibial band syndrome.
Dislocated kneecap.

 

This occurs when the triangular bone that covers the front of your knee (patella) slips out of place, usually to the outside of your knee. In some cases, the kneecap may stay displaced and you'll be able to see the dislocation
Other problems
Pain syndrome is a general term that refers to pain arising between the kneecap and the underlying thighbone. It's common in athletes; in young adults, especially those whose kneecap doesn't track properly in its groove; and in older adults, who usually develop the condition as a result of knee discomfort. 
Risk factors
A number of factors can increase your risk of having knee problems, including:
Excess weight.

 

Being overweight or obese increases stress on your knee joints, even during ordinary activities such as walking or going up and downstairs. 
Lack of muscle flexibility or strength.

 

A lack of strength and flexibility can increase the risk of knee injuries. Strong muscles help stabilize and protect your joints, and muscle flexibility can help you achieve a full range of motion.
Certain sports or occupations.

 

Some sports put greater stress on your knees than do others. Alpine skiing with its rigid ski boots and potential for falls, basketball jumps, and pivots, and the repeated pounding your knees take when you run or jog all increase your risk of a knee injury. Jobs that require repetitive stress on the knees such as construction or farming also can increase your risk.
Previous injury.

 

Having a previous knee injury makes it more likely that you'll injure your knee again.
Prevention
Although it's not always possible to prevent knee pain, the following suggestions may help ward off injuries and joint deterioration:
Keep extra pounds off.

 

Maintain a healthy weight; it's one of the best things you can do for your knees. Every extra pound puts additional strain on your joints, increasing the risk of injuries.
Be in shape to play your sport.

 

To prepare your muscles for the demands of sports participation, take time for conditioning.
Practice perfectly.

 

Make sure the technique and movement patterns you use in your sports or activity are the best they can be. Lessons from a professional can be very helpful
Get strong, and stay flexible. Weak muscles are a leading cause of knee injuries. You'll benefit from building up your quadriceps and hamstrings, the muscles on the front and back of your thighs that help support your knees. Balance and stability training helps the muscles around your knees work together more effectively.
Be smart about exercise.

 

If you have chronic knee pain or recurring injuries, you may need to change the way you exercise. Consider switching to swimming, water aerobics, or other low-impact activities — at least for a few days a week. Sometimes simply limiting high-impact activities will provide relief.
How to Wear: 
Protected By 90 Days Money Back Guarantee!
If you are not 100% satisfied with the product and the service we offer - you are protected by our 90-day quarantee on all purchases. Should you have any problem at all then e-mail us at info@corespirited.com for a fast response and no questions asked exchange or refund.
Used for patellar tracking disorder, patella subluxation or dislocation, patellofemoral pain syndrome, light MCL and LCL injury prevention, meniscus pain, knee sprains, knee arthritis, runner's knee, jumper's knee, chondromalacia, patellar tendonitis, and more.
No. They have a specially designed gripping strip on the inside to hold the it up regardless of how hard you move or exercise.
Using a fabric tape measure, stand up and measure the circumference around the center of your kneecap. To get the most accurate measurements, we recommend having a close family member or friend assist you. Refer to our sizing graphic in the photos above to choose the right size.
Yes, but this knee brace is meant to fit against your skin for a better grip. It can be worn above tight pants or leggings if necessary.
This knee brace can be comfortably worn all day while sitting, standing, and during physical activity.
Yes! We offer a simple no-hassle returns and exchange process. Simply contact us by email info@corespirited.com and we'll ship a replacement or arrange a refund.
Delivery takes 3-6 days to the USA, and 5-12 days to Canada, United Kingdom, and Australia.
What Customers Are Saying
I'm a 55 years Old, without this supsupport, my movement would've been very limited. I'll be bothering my neighbors for their support since my children lives far way.
Never did I expect to walk without pain. I sometimes forget I have the brace on. I am very happy to have discover your product. 
At 40 years old, my goal wasn't to have the knees of an 18-year-old. I know mines have a lot of mileage. I was looking for something that can take away some discomfort when I squat or perform any lower body movement. You present me with the right brace for that.
Thank you for introducing this fantastic brace to my life. 
Helps greatly
Got this because I ended up with water on my knee and was having a lot of trouble walking. I'm a fluffy girl so it's hard to find a brace that fits my leg and this one worked. Kept my knee steady while I was healing and I was able to walk my dog with far fewer issues. Only thing that didn't work was the little sleeve that came with it to go under the brace didn't fit at all and wearing it with shorts wasn't the best. But with leggings which I normally wear it worked great.
Very good quality material, very pleasant to the touch. It is very practical to use and is very well designed, it is not difficult to put it on the knee. Recommended
I got it today and was very impressed with the quality and the low profile fit.
Sweat-Resistant Exercise Knee Brace for Working Out.
The new braces work great. They provide awesome support for my aging knees all day long. Great product!!
It is perfect! You feel more stable right away. Very soft and comfy