Patellar Tendon | Knee Support Strap
---
Patellar Tendon Knee Strap
  Description
If you are an active runner, walker, or play sports, it is likely that you've experienced pain in the front of your knee around your patella. Our adjustable knee brace was designed to alleviate this kneecap pain and help you get back to your normal activities.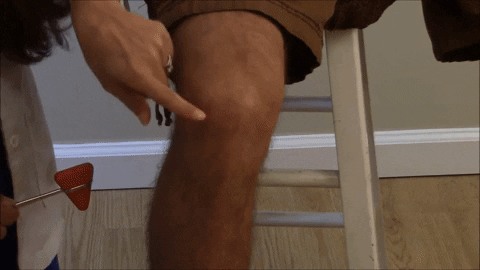 The Patellar Tendon Knee Strap Brace is wrapped around the knee and used for a variety of knee problems. They help in the following ways:
They distribute pressure across a large area and reduce stress on the patellar tendon.
Designed to alleviate knee pain
They have a proprioceptive effect on the knee joint. It signals the brain to keep the knee muscles on high alert
Can be used as preventive care for patellar tendon strain when indulging in activities that may cause stress to the patella such as running, jumping, walking, etc.
The specifically shaped pad compresses the area directly below your kneecap, to take pressure off of the joint. This thin knee brace is designed for:
Runner's knee
Chondromalacia
Patellofemoral pain syndrome
Jumper's knee
Knee discomfort
Read what Shelly has to say...
Read  what Henderson has to say...
5 Reasons People Love This Knee Shock Absorber
Adjustable and Reusable

The fact that this band for the knee is adjustable means one can tighten it to an ideal amount of pressure. Being able to adjust and tighten your knee strap to just the right amount of pressure is crucial in order to effectively ease the pain. Easily adjustable fastener straps allow for simple application and the right amount of pressure and support around your kneecap.

This patellar tendon strap makes for the perfect replacement for knee taping. You can reuse this band in place of constantly tapping your knee before your activities.

Perfect for Running, Sports, and Exercise

Lightweight and thin, this knee band for runners is ideal to wear during any physical activity. When you run, jump and put pressure on your knee, it is likely that you are exposing yourself to patella injuries. Whether you are participating in soccer, gymnastics, cycling, rowing, basketball, volleyball, or snowboarding, your knee will be protected.

Universal Fit

With sizes offered from XS-2XL, the patellar tendon strap was designed for average to plus-size adults. The knee sleeve also fits both the right and left knee, so you are able to use it interchangeably.

 

Provides Therapeutic Heat and Compression

The neoprene material of this knee strap applies soothing heat to increase circulation and heal sore or aching muscles. The knee strap applies pressure to the patella tendon. This tubular pad contains a non-slip interior to avoid constantly sliding, but also provides targeted compression to relieve stress and alleviate pain.

Low Profile and Discreet for Day-to-Day Activities

Extremely low-profile and nonrestrictive, this 2" tall patella strap allows for a comfortable full range of motion. Whether your pain is experienced during walking, standing, or whatever your daily activities may look like, this thin knee strap will provide you with discreet protection.
How This Strap Helps With Discomfort

There are a number of reasons this knee band is a popular choice for a number of the knee joint and patella problems you may be experiencing, including the runner's knee.
Knee pain from running is such a common occurrence that the term "runner's knee" has become a commonplace way of describing a number of conditions that cause knee pain, and often pain around the front of the knee. Wearing this knee brace like this directly under the patella takes the pressure off the joint, dramatically reducing the pain that you are experiencing during your daily activities. To avoid the pain of a runner's knee, as well as additional overuse of your knee, this strap is one to stabilize and provide constant support and compression.
Protected By 90 Days Money Back Guarantee!
If you are not 100% satisfied with the product and the service we offer - you are protected by our 90-day quarantee on all purchases. Should you have any problem at all then e-mail us at info@corespirited.com for a fast response and no questions asked exchange or refund.
Used for patellar tracking disorder, patella subluxation or dislocation, patellofemoral pain syndrome, light MCL and LCL injury prevention, meniscus pain, knee sprains, knee arthritis, runner's knee, jumper's knee, chondromalacia, patellar tendonitis, and more.
No. They have a specially designed gripping strip on the inside to hold the it up regardless of how hard you move or exercise.
Using a fabric tape measure, stand up and measure the circumference around the center of your kneecap. To get the most accurate measurements, we recommend having a close family member or friend assist you. Refer to our sizing graphic in the photos above to choose the right size.
Yes, but this knee brace is meant to fit against your skin for a better grip. It can be worn above tight pants or leggings if necessary.
This knee brace can be comfortably worn all day while sitting, standing, and during physical activity.
Yes! We offer a simple no-hassle returns and exchange process. Simply contact us by email info@corespirited.com and we'll ship a replacement or arrange a refund.
Delivery takes 3-6 days to the USA, and 5-12 days to Canada, United Kingdom, and Australia.
What Customers Are Saying
I'm a 55 years Old, without this supsupport, my movement would've been very limited. I'll be bothering my neighbors for their support since my children lives far way.
Never did I expect to walk without pain. I sometimes forget I have the brace on. I am very happy to have discover your product. 
At 40 years old, my goal wasn't to have the knees of an 18-year-old. I know mines have a lot of mileage. I was looking for something that can take away some discomfort when I squat or perform any lower body movement. You present me with the right brace for that.
Thank you for introducing this fantastic brace to my life. 
I bought this for one knee and when it came with 2, I used one to leave at work.. later I used one while I washed the other. It works for knee pain. I am not sure of the science behind it.. but it definitely made my knee pain more bearable!
It's well padded, comfortable, and stays in place during vigorous workouts. I'm a petite person and was worried that this would be too big (my knee is 12" around) but fits extremely well due to the fact that the product has velcro loop all the way around it to secure it in place regardless of size. Thanks for such a great product, I would definitely recommend.
Love these knee straps... I don't know how they work, but I can walk around for hours and not feel the aches in my knees I normally do. I've tried a lot of different supports and braces, but these simple straps work the best for me.
The one thing I would change on them is to make the Velcro tabs that wrap around the back of your knee slightly more narrow since it can dig in the back when you bend you knee ( but it's soft so it's not too ba
Great support for walking
This is needed for walks. Tried to walk without it and realized how much it did help. If wearing shorts it can get uncomfortable depending on how tight you tie it.
The straps kinda bit into the side of ur legs through the loops,But my fist day trying them( i do have very bad knees ) I felt a difference right away, kinda wished they were a bit firmer.. & could tighten them more with out the biting.. but all in all you take the good with the bad.. & i would definitely get them again